Office Yoga
Bring well-being to your (home) office with yoga and meditation
Well-being perks for your employees are a great investment. Happy and balanced coworkers contribute to a harmonious office environment. Stretching will reduce pain in the back and neck often caused by sitting long hours in front of the computer. Eye exercises will release tired eyes from tension and help to relax in general. The breathing exercise and meditation elements will clear the mind and train focus and hence increase productivity.
You can book customized Office Yoga classes for your team online or at your office. Classes can be done in office clothes at the desk (sweat-free) or you can choose full meditation and yoga classes on the yoga mat. Contact me below to discuss which yoga, meditation or breathing class is the best match for your cooperation.
Our team speaks English, Danish, Norwegian and German and we are happy to teach in these languages for your convenience.
Benefits of Office Yoga for your company are:
Strong company culture and better team work
More focus and less distraction leading to more productivity
Less (long term) sick days due to decreased stress and improved immune system
Less anxiety
Less turnover due to higher employee satisfaction
More creativity, think outside the box
Improved talent acquisition
It shows you care
Join Office Yoga online
On my online channel you have the possibility to practice Office Yoga class recordings at any time. If you would like to give your team access to this service, please reach out below and ask for special rates.
We come to your Office too!
Prices for onsite or live customized online classes:
Standard Office Yoga
15 minutes 690kr
30 minutes session 950kr
1 hour session 1,700kr
(10% discount for online sessions). 
Premium Office Yoga includes 20% discount on the comprehensive online yoga library for employees plus 1 hour weekly Yoga Therapy Consultation for employees onsite or online. Premium surcharge 3,000kr/month.
All prices excl. VAT.
Office Yoga Teacher Training
Want to teach your own Office Yoga classes or empower your team to be taught corporate yoga by one of your colleagues? Then check out our Office Yoga Teacher Training possibilities.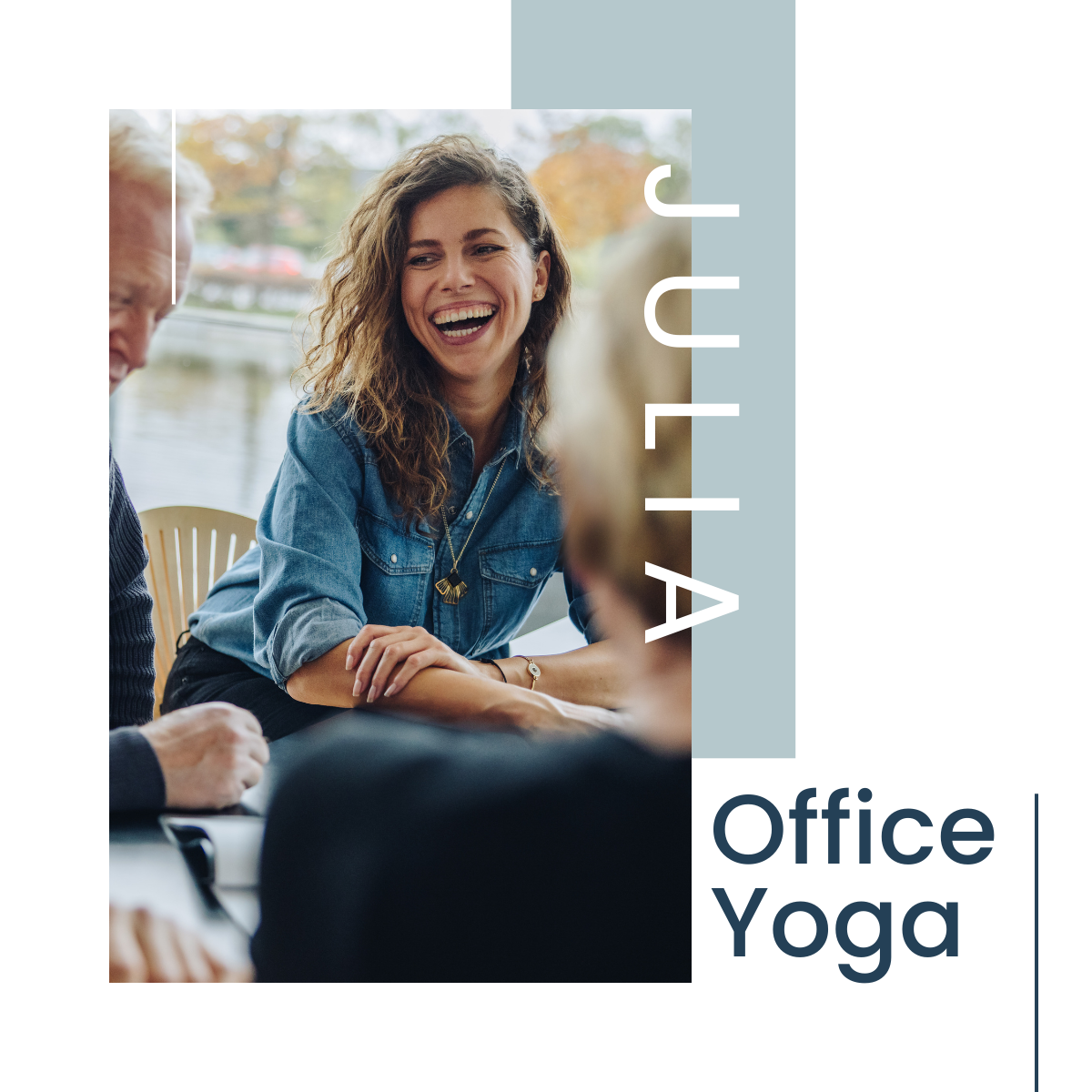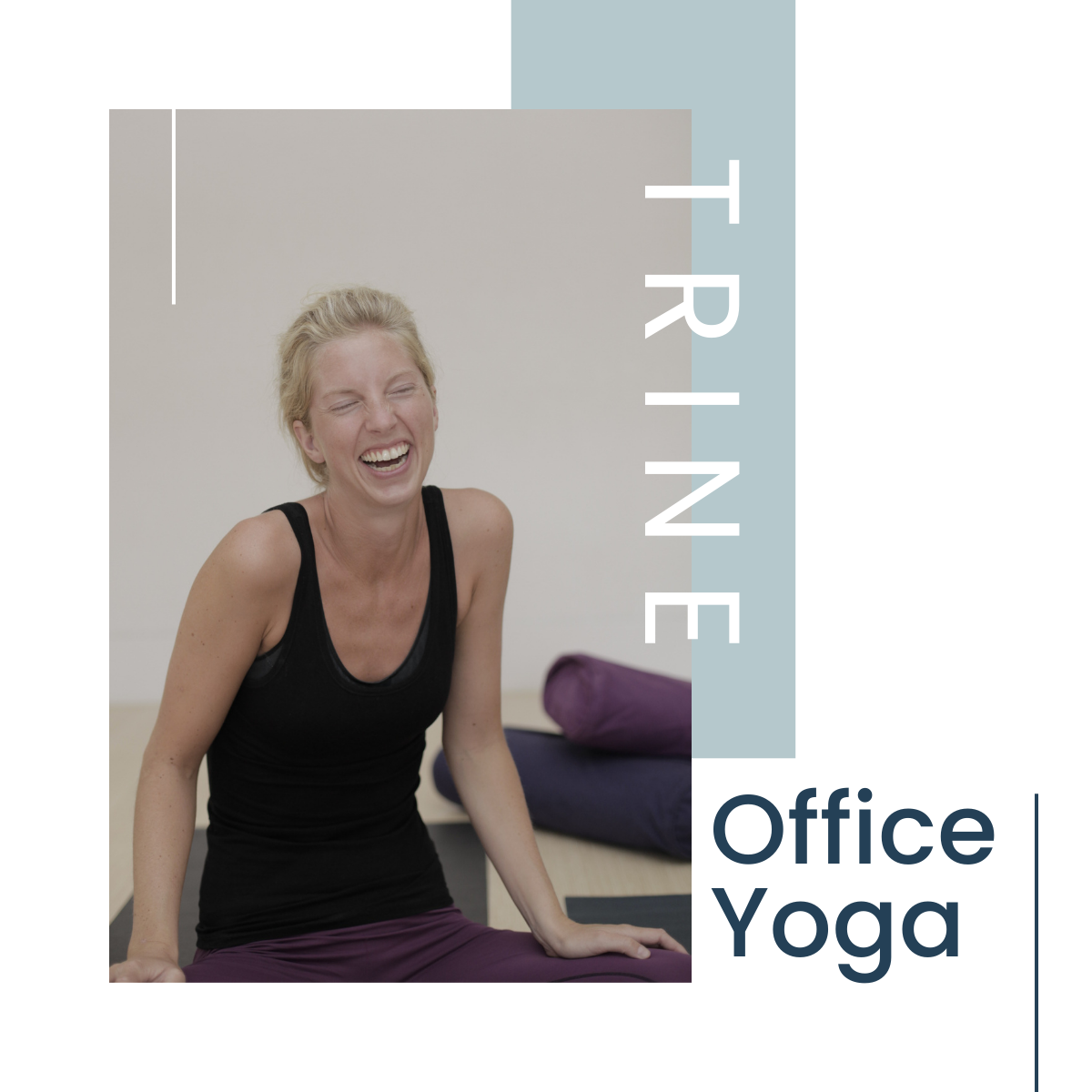 Meet the Office Yoga Team
The Warrior Princess Yoga Office Yoga Team consists of 3 qualified and experienced yoga teachers. All of us have a corporate background and we use this knowledge to meet the requirements of your work culture. We speak English, Danish, German and Norwegian and do our best to match our skillset to the needs of your teams. We are available for Office Yoga classes online and in person in the greater Copenhagen area. Reach out below and we will create a customized plan for you to bring more well-being and improved stress-management to your office too.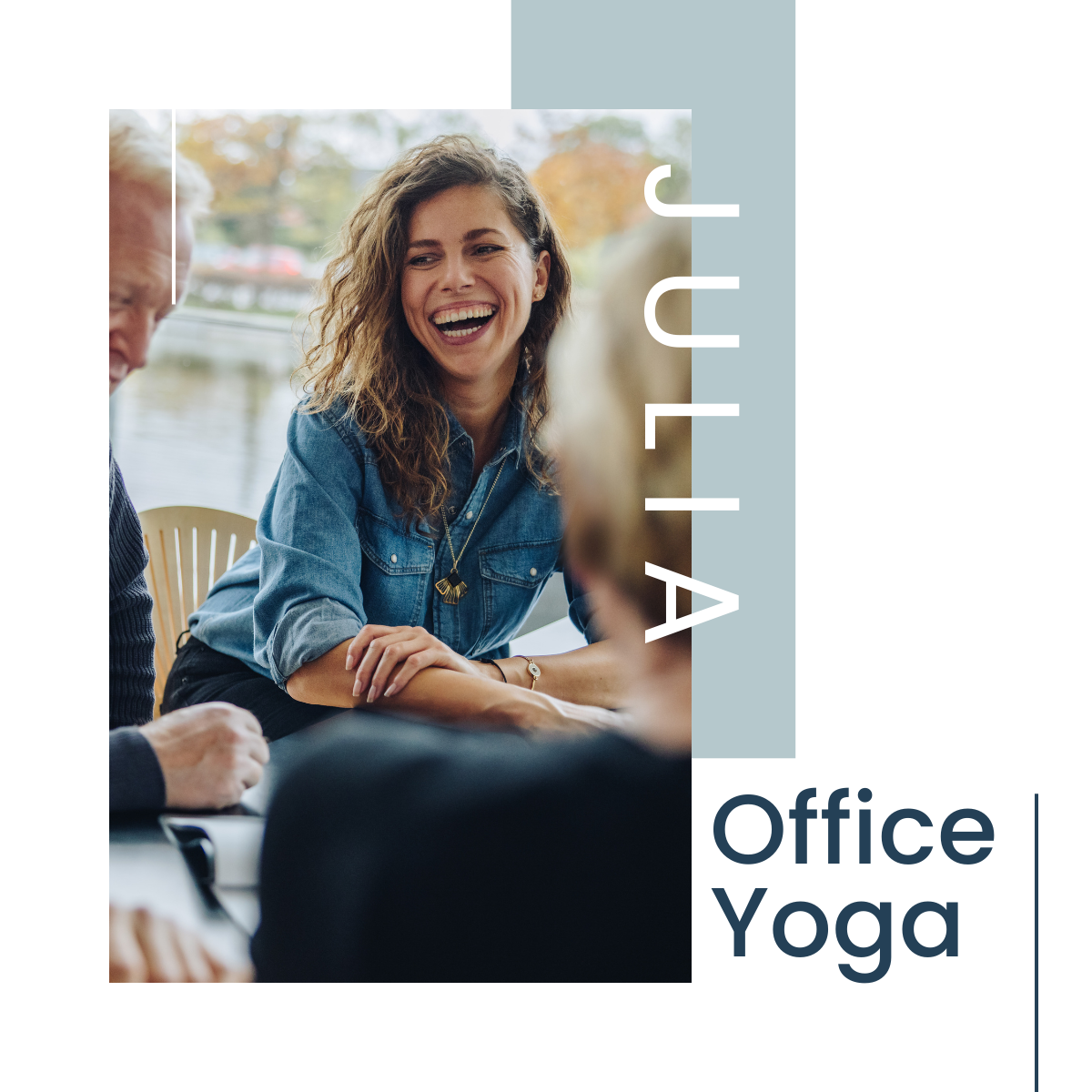 Office Yoga with Julia
Julia developed Office Yoga during the lock-down. The classes were very popular and the feedback amazing. So after the lock-down she took this concept to companies and clients include Pandora, Georg Jensen, Penneo, Siteimprove, Tame, Eficode, MatKon, to name a few. Julia is passionate about Office Yoga as she has a history of stressful and fast-paced jobs in IT-Sales and consultancy. She will teach you skills to improve your well-being immediately and on the long run. Classes always include meditation, breathing exercises and movement as we believe that successful stress management needs to target the mind-body in its totality. 
Office Yoga with Miz
Miz has been practicing and teaching yoga for twenty years, and has held space for people of all backgrounds and needs. She has worked directly with shoulder rehabilitation, pregnancy, post-op knees and wrists, hip mobility and spine health, and visually impaired students, continually seeing success in students attending her classes. She has a great knowledge of anatomy and how the body works on a functional level, so her injections of this information into her classes make them effective, but they are also fun, engaging, and challenging. With a passion for getting students to feel their way through the sessions, she allows space for learning how to control and conduct your own practice, how to honour your body and your breathing as well as your mind, and how to learn more about yourself whilst on your mat.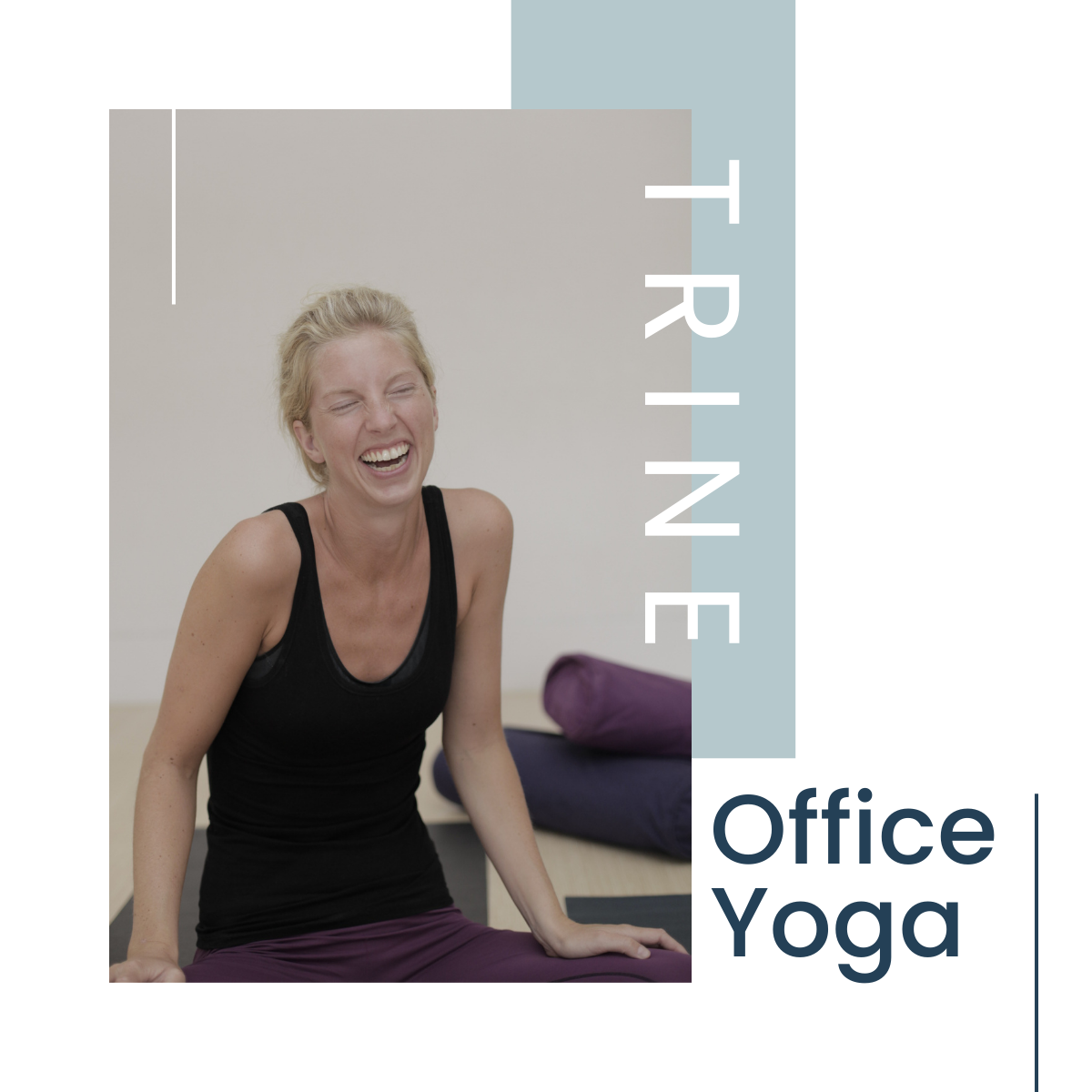 Office Yoga with Trine
Starting out in the business world; moving from the area of sustainability and social work to holistic coaching in the banking industry, Trine is now fully immersing herself in sharing yoga and its benefits. Focusing on the therapeutic aspects of yoga, she is highly motivated by sharing the effects of a practice; be it more mental capacity, increased creativity, or preventing and reducing stress and anxiety. Using physical exercises, breath work, sensory experiences and meditative practices, she is creating classes based on the specific needs and objects of the workplace. 
Corporate Training
We offer different Trainings, Talks and Workshops for your company. Wellness-Training and Workshops like Stress and Breathing, Communication and Consent, Trauma-Informed Meeting Facilitation, Mindfulness and Meditation as well as special team-building events. Your trainer has many years of corporate experience in high-paced jobs like sales and consulting and is happy to discuss, which formats would be most beneficial for your teams. Contact us via email and book your free consulting session: info@warriorprincessyoga.com
I was looking for some options to engage with our employees but also make them enjoy their time in the office, then yoga came to my mind so I contacted Julia.
Her approach was perfect for our needs, we first started with yoga and later we added mediation, which was the best thing ever! After a long day of dealing with sales and customers, mediation is the best way to release stress.
Julia always brings new techniques and exercises to free our minds and train the body. I would definitely recommend her classes to anyone who's trying to create a better atmosphere in the office.
Let's do business and revolutionize your workplace.